Does your break room have all the essentials to accommodate your workers? It may seem simple, but offering napkins and plates, condiments, utensils and more will help your staff enjoy their meals to the fullest before they get back to work.
Prestige Vending & Office Coffee is your all-in-one break room supply service in Tucson, AZ. Whatever supplies your breakroom needs, we'll make sure they're provided. Count on us to ensure your employees have what they need.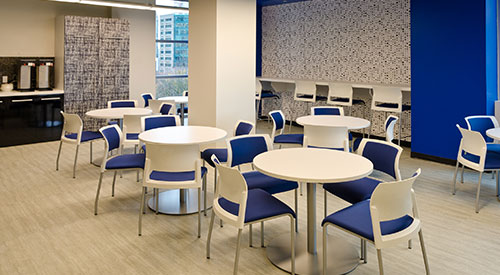 We Keep You Stocked
With Prestige Vending & Office Coffee as your supplier of break room materials and equipment, you won't have to worry about running out of the supplies people need. We're one call away and will restock everything you're running low on. We'll make sure there's no lapse in your inventory and we take the time to understand your needs to ensure we're meeting them in a timely manner.
Essential Break Room Supplies
Consider us your go-to provider of break room supplies in Tucson, AZ! The equipment we provide includes sliding glass coolers for storing and displaying foods, microwaves for cooking and reheating meals, and both single cup and larger sized coffee makers.
In addition to these larger necessities, we've also got you covered when it comes to other break room essentials, including paper products, condiments, cutlery and much more. Let us help make sure your break room is fully accommodating and well-equipped to meet the needs of the people eating within it.
Condiments
Napkins
Paper and foam cups
Utensils
Need Supplies?
If your breakroom inventory is always low or nonexistent, it's time to fix it. Prestige Vending & Office Coffee is ready to stock your break room with all the essentials, so people can eat and enjoy their meals comfortably.
Reach us today at 520-882-3902 to discuss your supply needs and set up a restocking schedule that's right for you.